August 29 - October 22, 2023 | Curated by Beth Giacummo Br. Kenneth Chapman Gallery located in the JoAnn Mazzella Murphy '98H Arts Center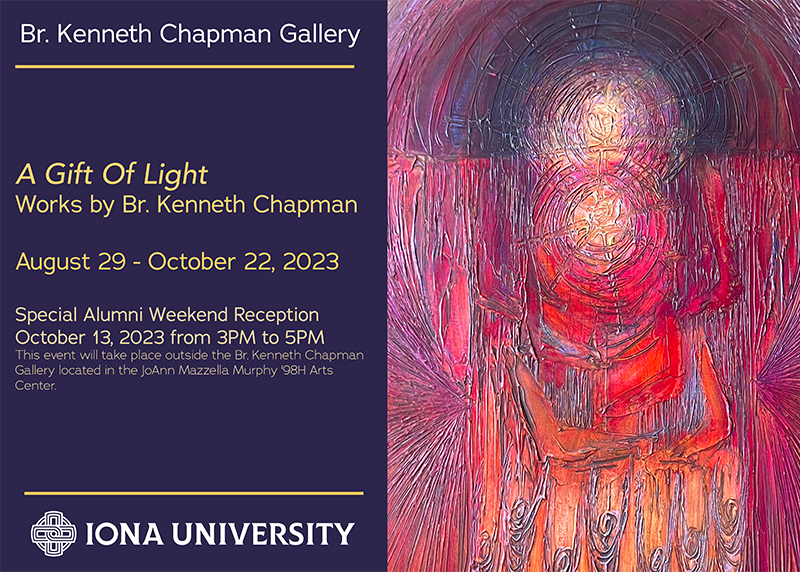 It is with great excitement and honor we announce a special Fall exhibition entitled A Gift Of Light | Works by Br. Kenneth Chapman, celebrating the art of Iona University's Gallery's namesake, Br.Kenneth Chapman. This exhibition will include over 35 works that represent a fraction of the art created by Br. Kenneth Chapman.
Works will be on view from August 29 - October 22, 2023. A special Alumni weekend reception is planned for October 13, 2023, from 3:00 to 5:00 PM, this event will take place at the Br. Kenneth Chapman Gallery located in the JoAnn Mazzella Murphy '98H Arts Center.
Br. Kenneth Chapman was a teacher and artist for seven decades, Br. Chapman's art chronicles a profound spirituality, rich theology, deep mindfulness of creation, attentiveness to human emotion, and a fascination with the evolving cosmos. In watercolor, oils, acrylics, and enamels on paper, canvas, clay, and metal, he invites the viewer on a journey that evokes new ways of seeing and believing.
The exhibition title is inspired by a recently published catalog which shines a light on the life's work of Brother Kenneth Chapman. Opening the Gift is a brief introduction to the artist and to his works. It follows the development of his talents from a time of childhood illness, his call to religious brotherhood and teaching, graduate studies, and a series of assignments that bring him to Chicago, a mission to Native American children, to Rome, and eventually to the role of artist in residence at Iona University, New Rochelle, NY.
The gift that has distinguished Brother Chapman's art has been his contemplative engagement in the materials at hand and their relationship to a growing awareness of the wonders of creation and the inspirations of scripture Canvas, ink, oils, acrylics, and clay interact with colors and shapes. His hands and eyes explore what emerges as he seeks to give expression to feelings and insights.
Each stroke is part of a larger movement. He explains that he paints with his whole body. The gift he has shared in hundreds of paintings offers an exegesis of his journey of faith. Hopefully one day a group of theologians, scripture scholars, artists, astrophysicists, and mystics will take on the challenge and the joys of seeing anew where Brother Chapman's journey has brought him. May they open the gift to those of us who have been touched by his art and want to know more.
Meanwhile, this brief presentation serves as an invitation to begin unwrapping the gift.
Gallery Events
Special Alumni Weekend Reception: October 13, 2023, from 3:00 to 5:00 PM
New Rochelle Arts Fest 2023: Extended Gallery Hours
October 19 from 12:00 - 8:00 PM
October 20 from 2:30 - 6:30 PM
October 21 from 10:00 - 5:00 PM
October 22 from 10:00 - 5:00 PM
Brother Kenneth Chapman's life work and biography is archived on the CBArt Foundation website.
Conceptual and biographical insight for this exhibition and all materials were generously provided by the Edmund Rice Christian Brother Art Foundation.
For more information about Gallery Hours, visit Iona University website
For additional images or artist information please contact Beth Giacummo at bgiacummo@Iona.edu