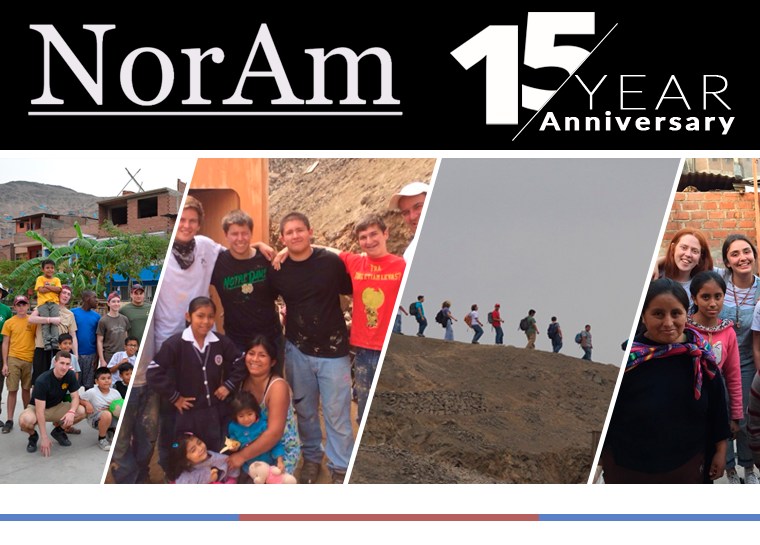 Brother Stephen Casey
The Peruvian Immersion Fifteen Years and Many Friends Along the Journey
It is hard to believe that our first immersion to Lima was fifteen years ago in February 2006 with Catholic Memorial from Boston, Massachusetts. Time has come and gone so fast, and so many changes have occurred over the years. From our first groups staying in the Montefino Hotel in Lince in 2006, to having immersion houses now in Las Flores and Jicamarca. Over the past 15 years, Lima has certainly changed towards a bustling modern city with 10 million people. The older days of dusty roads and dirty streets, old buses, street food on every corner has today grown into a beautiful city with a modern transportation system, cleaner streets, beautiful parks and a growing middle class. With that said, Lima continues to have many poor people that live in the hills surrounding this vast city. Many Peruvians have come to Lima to escape the greater poverty of the provinces for a new life and its dreams of more opportunity in the city. Life is very hard for those that live in extreme poverty. Life is a struggle to receive clean water, access to electricity, safe food to eat, access to healthcare, a job to support their families. Add to that, 800,000+ Venezuelan refugees that have escaped the struggles of their country over the past five years and have made Peru their home. All this, makes for many people in great need every day. Yes, Lima has changed a lot over the years, but one thing has always stayed the same, the heart of the Peruvian people and their love of family and friends is a gift well worth staying for in our mission of immersion!
Catholic Memorial was the first school to visit Peru in immersion in 2006, followed by Bishop Hendricken in 2007, Saint Thomas More Collegiate in 2008, Colegio Newman in 2009, Iona Prep, Bergen Catholic and Brother Rice Michigan in 2010, Iona College, Pilgrims in Peru came to Casa Hendricken in 2011, Palma School, St. Laurence in 2012, Newman Mothers in 2013, Iona Prep Fathers and Sons, Newman Padres e Hijos, Newman Profesores, Colegio Stella Maris, O'Dea and CLT Rome in 2015, CBHS Lewisham (Sydney, Australia) in 2016, Vancouver College, CBC Fremantle (Perth, Australia) in 2017.
I remember well that snowy Thursday afternoon in 2006 waiting in Logan Airport in Boston for that first immersion. I was excited and afraid at the same time. Who knew then what all of this would have turned into! I traveled with Catholic Memorial teacher, Kyle Woolley who spent two years in Fe y Alegria in Canto Grande as a volunteer. Kyle had a lot of friends and I made a lot of connections for the groups to visit in the future with his presence.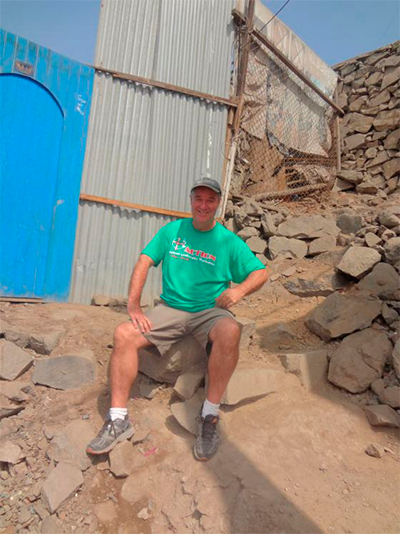 Over the years, we made so many friends in Lima. Our connections brought us to Tahuantinsuyo where we worked with Sisters Josephine, Monica and Catherine, a wonderful group of sisters that worked with our Christian Brothers in Tahuantinsuyo back in the late 1960's. We worked on many projects in their parish and also the community soup kitchen that supported mothers and families. Sr. Josephine introduced us to Brother Miguel in Ancon who had a home with over 400 orphans living in a single community. It is wonderful to see how the oldest orphans in leadership watched over and cared for their youngest brothers and sisters. Also, we met Doctor Tony Lazzaro in Chaclacayo, Peru. Tony is a medical doctor from Tampa and fell in love with Peru many years ago on a medical immersion to Lima. Doctor Tony has had over 60 children living with him at times in his Hogar San Francisco. This Hogar is a home for children, many from the provinces, that come and live with Doctor Tony for free medical care and rehabilitation. Also, on the journey we met Sister Claire in Villa El Salvador. Sister Claire invited us to work in a preschool with Aurora and the women of VES. We also visited the St. Martin de Porres parish medical clinic in VES for talks about health care concerns in Lima. Sr. Claire always welcomed us with a huge smile and hug and we always learned much about life in the Villa El Salvador pueblo. Also, thank you to Marina and Derrick March of Third World Eyecare Society Canada who came to Lima with Saint Thomas More Collegiate in 2017 and 2019 with 15-17 eye doctors and volunteers to distribute over 10,000 pairs of glasses. In 2018 Jorge Ugueto, joined our immersion team and worked with Paul and I with our immersion groups. Jorge is from Venezuela and lives in Lima with his family. So many great friends on the road of life!
The very first Christian Brother in Peru to work with the immersion groups was Brother Diego Gloss. Diego set up for us the houses to be built in Canto Grande from 2006 to 2009. He would visit the poorest people in the area and find out their needs for a new home. Also, in Fe y Alegria school he set up work projects during the day and an annual bonfire to celebrate the Peruvians and the North Americans coming together in immersion. Brother Diego made the visit to Canto Grande memorable and always the favorite part of the groups visit to Lima. In late 2008, Brother Paul Keohane came to Peru from Argentina and started to work with the immersion groups in 2009. Paul brought Colegio Newman from Argentina on immersion in 2009, and they stayed in the Christian Brothers Community in Las Flores for their immersion experience. Paul continued working in immersion until his untimely death in 2019. Paul had a tremendous charismatic personality that was loved by all. Paul's greatest gift was his love of the poor. He would walk the hills of Canto Grande and know everyone by name. Paul is missed by so many people in the immersion program, the poor and the groups alike!
In December 2011, I came to live in Peru for seven months each year and work together with Paul in our immersion program. Each year more and more groups came on immersion to Lima, and there was a need for a place for the groups to stay that would be less expensive than the Montefino Hotel in Lince and closer to the poor in Canto Grande. In 2012 and 2013, most groups stayed in our parish retreat center not far from the Christian Brothers house in Las Flores. It was convenient but we wanted a house for all groups to stay in and in 2014 Casa Hendricken was dedicated in Las Flores.
In 2015 Palma School was on immersion in Lima and wanted to know if it was possible to stay a night in Jicamarca with the family of our bus driver Jose Albarran. We stayed the night on the floor in sleeping bags and out of that came a dream to build another immersion house. Today we have two homes to host our immersions, Casa Hendricken in Las Flores and our second home in Jicamarca. Both houses have been wonderful experiences for our groups to be closer to the poor and share in the lives of the Peruvian people.
Our immersion program from 2006 to today have hosted 1521 people on immersion, 156 homes have been built for the poor and 22 different groups have come from all over the world (North America, South America, Europe and Australia) to immersion in Lima. It has been an incredible experience to work in this mission with so many beautiful people over the years from so many different countries. I am very thankful to my North American Province for their incredible support over the years, the Latin America Mission Area for their brotherhood and their opening of their communities to our groups as well.
These days Covid-19 has brought much suffering to Peru as this country has had the most deaths per capita in the world. It is springtime now and the numbers of cases are starting to go down. That is great news for Lima, as it can start to slowly open back up. The Immersion Program has already sent over 55 families food baskets in mid-October and will again right before Christmas thanks to our 2020 immersion groups and the money they supported us with this year. Most of these groups never made it to Peru this year but they still donated their Immersion Fee money to help support our families in Lima. Our groups are always very supportive and generous. Thank you! The year 2021 will be upon us soon and we will not be having immersion groups visiting us in Lima next year due to Covid-19. Though we will be having a Lima Virtual Immersion Program that will be sent out for all the schools to take part in. It will be a ZOOM program live from the hills of Canto Grande and Jicamarca. I am so excited to get this 2021 Zoom Program started! Well it has been an incredible journey the past 15 years and I'm looking forward to our future, especially 2022 when our groups can return again with students and teachers to share their lives with our Peruvian brothers and sisters here in Lima.
Many thanks to our schools and friends that sent me great memories of their immersion experiences in Lima. Please enjoy reading the great impact immersion experiences have on those who open their hearts to the gift of the poor.
Brother Stephen Casey
Director of Immersion
Office of Educational Services
North America Province
Kevin Albarran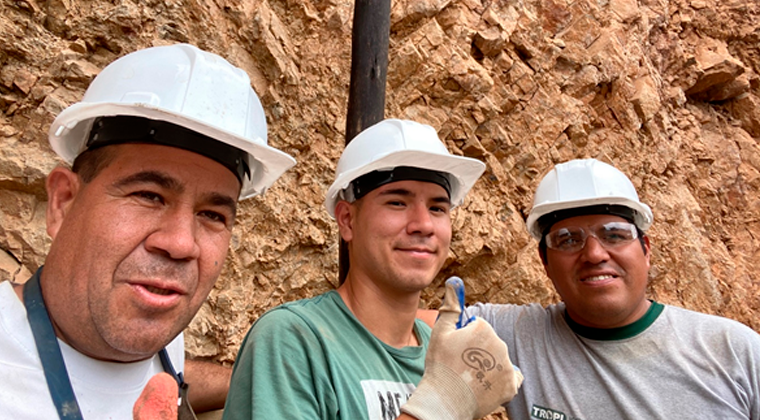 Jose Albarran, Kevin Albarran and Jorge Sanchez
My name is Kevin Albarran from Jicamarca, Lima, Peru. I work with the project of immersion now for 15 years and I'm only 23 years old. I started as a youngster! Thanks to this program and to God I have gotten to know wonderful people across the world with great hearts and love. One of my favorite experiences was when I was 8 or 9 years old, my father Jose Albarran was the bus driver, we went to the airport to pick up a group and bring them to a hotel in Lima.
It was my first trip to the airport and we thought we were going to pick up Peruvians. It was such a surprise there were no Peruvians but wow gringos! Hahaha. I was very nervous because they spoke no Spanish and we spoke no English. I started to use gestures with my hands to communicate and they tried to understand me. I remember the groups as joyful, and we had so much fun together playing games and they became my friends. I remember saying to myself when I was much younger, how wonderful that people come to help people in need of houses, medicines, clothes and other things.
Over the 15 years working with all the groups I learned that material things are not important, what is important is to be able to share what little we have with others that need more than we do. You feel a great deal of satisfaction when you receive a smile or see tears of joy from people you help.
Thank you from my family to everyone we met with the project of immersion. My family loves when you visit our house. I have great friends now in many countries and that makes me very happy.
Kevin Albarran
Jicamarca, Lima, Peru
Jorge Sanchez
Good day to all my friends of immersion in the world. I am Jorge Sanchez who has been working with you in Canto Grande the past ten years as your carpenter constructing "casitas" little houses in the hills. I thank God so much to know each of your schools and to know each of the students and adults as well. It has been a beautiful experience to watch all of you help our families in Lima that live in extreme poverty. Every day I see the love of God in the eyes of the people who receive homes and it makes me very happy. I am so grateful that the world has people like yourselves. I hope that Covid 19 is over soon and you can return to Peru once again. My prayers to each and every one of you. Thanks to my friends the brothers Stephen, Paul, Diego and Hugo. Un gran abrazo!
Jorge Sanchez
Carpenter Canto Grande
Brother Rice Michigan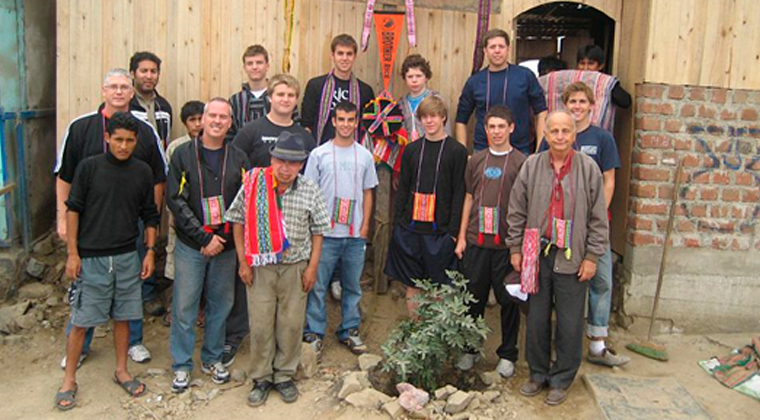 You're different! These are words that my wife would say each time I returned from our mission experience with Brother Rice, Bloomfield Hills, MI. Each time that I have had the opportunity to immerse myself into the lives of our friends in Canto Grande, and up on the hill, my heart is wrenched opened not only for the experiences that I have had there, but also from the great love that I and my students receive when we open our lives in immersion. Love has not only been shown to us by the people, but the love and hospitality shared with us from the Brothers has truly made this a heart and life changing experience as these holy men model their lives after Blessed Edmund Rice. Brother Rice High School Bloomfield Hills, MI truly thanks Brothers Stephen, Pablo (RIP), Diego and Kevin and the many other Brothers that have made our 10 years of Peru Immersion experiences something that we will remember forever. Of course, we also thank the Triple J's, Jorge, Jorge and Jose!
Thane Hall
Director of Campus Ministry
Brother Rice High School
Christian Brothers Congregation Leadership Team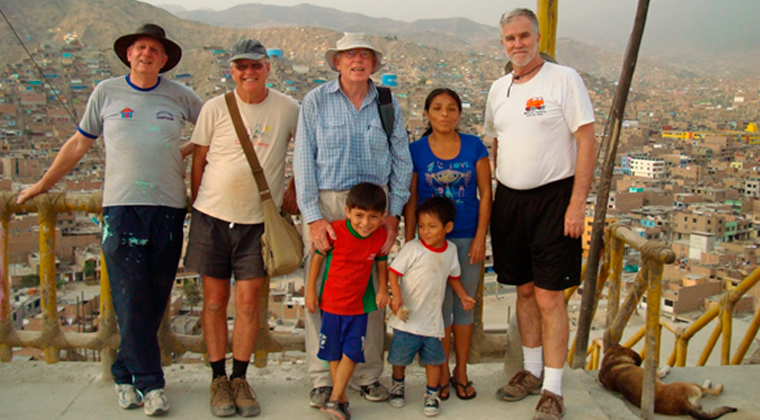 Christian Brothers Congregation Leadership Team – March 2015
Four Team Members worked with Brothers Steve Casey and Pablo Keohane in the establishment of a house on the hill in Canto Grande. Apart from the spraying, adjusting walls and roof, and painting, the most important part was meeting the family whose house it would be. Even with significant language and cultural differences, our common humanity was what tied us together. Working with Tania in shelling beans was a learning experience on the difficulties of life for so many of the women. It left us with deep appreciation for their resilience against seemingly insurmountable odds. We also felt much gratitude for the work of Steve and Pablo and all the groups who provide assistance for those in Canto Grande, but perhaps receive even more themselves.
Brother Peter Dowling
IONA PREP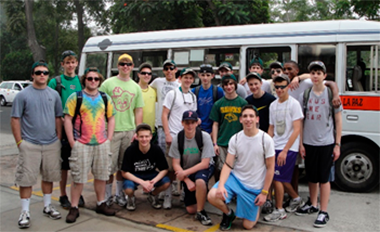 In 2006, as I was hip deep in my responsibilities as President of Bishop Hendricken High, Bro. Steve Casey came to me and proposed we begin sending our boys on a service/immersion experience to Lima. Peru and while there, visit some of the great archeological sites the country has to offer. At the time, I thought it was a good idea but the Diocese of Providence had not allowed students from any of their schools to travel abroad since September 11, 2001. After much prayer, conversation and persuasion, the Superintendent of Schools relented and allowed us to launch our first "Mission Peru!"
Once decided, Bro. Steve began assembling his "team" of adult chaperones which happily, included me! It was not something that I expected to be doing, but Steve was insistent that I needed (and would benefit from!) the experience. And as usual, Steve was right!!! So, on a cold February morning in 2007, I was fortunate enough to accompany Bro. Steve Casey, Mr. Brian Cordiero, Mr. Tom Gambardella and Ms. Louise Kaskel on our maiden trip to Lima, Peru with approximately 20 students. I was fortunate enough to accompany 3 more Bishop Hendricken groups on their trips to provide service, learn a new and different culture and open themselves up to God's grace showing them how people in different parts of our world lived. Since that inaugural excursion in 2007, I have been back to Lima and the Sacred Valley of the Incas 15 more times! Each trip with a different group of students.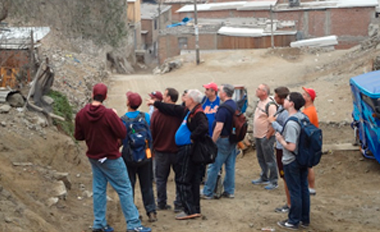 In 2010, I moved to Iona Prep in New Rochelle, where a group was waiting to embark on their first visit to Lima! Unfortunately, I was not able to accompany that group of pilgrims but, I made sure that Iona Prep students would benefit from the same experience over the ensuing years. So it was, on another cold blustery day, February 16, 2012, that I was able to accompany 15 students along with Dr. Kevin Kelton, Mr. Kieran Daly and Ms. Lisa Pfaff on another incredible experience to Lima, Peru. We were now determined to make "Mission Peru" a part of the culture of Iona Preparatory School.
In the summer of 2015, our "Mission Peru" experiences took on another completely different aspect. One of our dads, Frank Colucci, whose son Joey made the trek in March of 2013, suggested that we try a father/son trip. It took us a year and a half to put it together, but we were able to get four dads with their sons to travel to parts, for them, unknown! So, on the morning of July 8, 2015, we picked up our bags and once again headed south to Lima. By far, this we a wonderful experience for both fathers and sons. The opportunity to spend some quality time together providing service to people "on the hill" in Canto Grande and other sections of Lima and them travel east to the Sacred Valley was a graced and blessed experience for one and all.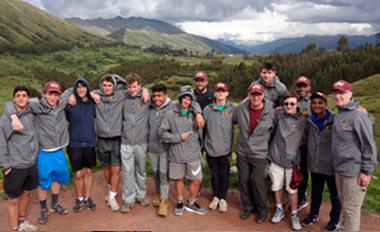 Those of us in North America live in a commercialized environment where we want for almost nothing. To experience life in another culture, another county, another existence, is a gift from God – one that we should not squander. I have been blessed many times over by accompanying many young people and a good number of our Dads, joining with them experiencing God's goodness to each of us and those people of Peru who embody the essence of the Gospels. As a chief school administrator, I urge all of my colleagues, book the flight, pick up you bag, and head south to Lima – you will not regret the experience!
Brother Thomas Leto
Those of us who have been to Lima on immersion many times have the privilege of seeing the results of the efforts of many individuals, groups and schools. An essential aspect of the experience to me is BUILDING. As individuals and families, the poor of Lima are building their lives, building communities, and building the City of God. Each of us who participates in the experience of immersion, who comes to encounter the beautiful people of Lima, contributes a stone, a brick, a floor, a wall, a roof towards the building up of the community. In turn, we are built up as individuals, encouraged in our individual call to respond to the need to create a more just, more perfect City. As a community, we too are built up as a team and assured of our call to respond to the needs of the vast world out there and more determined to create a better, more just, more conscious world where we come from. We are all building the City of God in this little enterprise of immersion. And we thanks God for this rich and rewarding opportunity.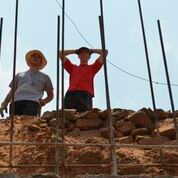 Kevin Kelton
For 15 years the Christian Brother's Immersion Program has allowed students and alumni from Edmund Rice Schools around the world to walk with the people of Lima, Peru in understanding their marginalization in the world. Those of us who have gone on this life changing trip often speak about how we've received and learned so much more from the Peruvian people than we could ever have given, truer words were never spoken. We can't thank the Peruvian people enough for what they have allowed us to experience in their beautiful homeland. On a personal level, I'm deeply grateful to the Albarran family for opening their hearts and home to all of us, and to Jorge Sanchez and Br. Steve Casey for allowing us to join them in building God's kingdom on the hills of Lima.
May we take the lessons we've learned from our Peruvian brothers and sisters: kindness, humility, a deep and genuine faith, generosity and graciousness, and continue to personify them in our daily lives, no matter if we are walking through our own community or up and down the hills of Canto Grande or Jicamarca. ¡Vive, Jesús en nuestros corazones... por siempre!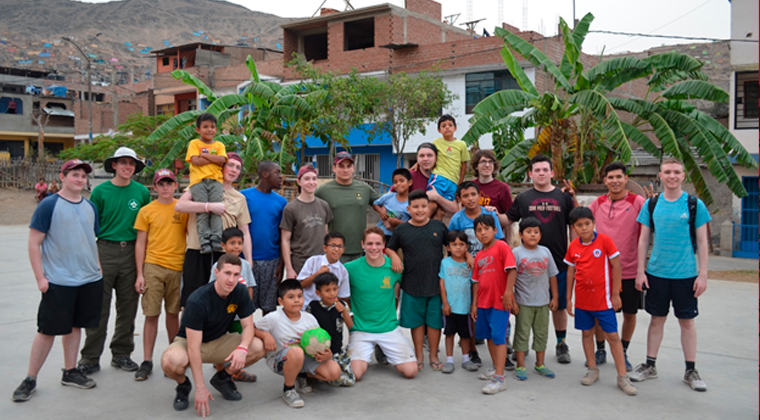 Sean D'Alfonso
IONA College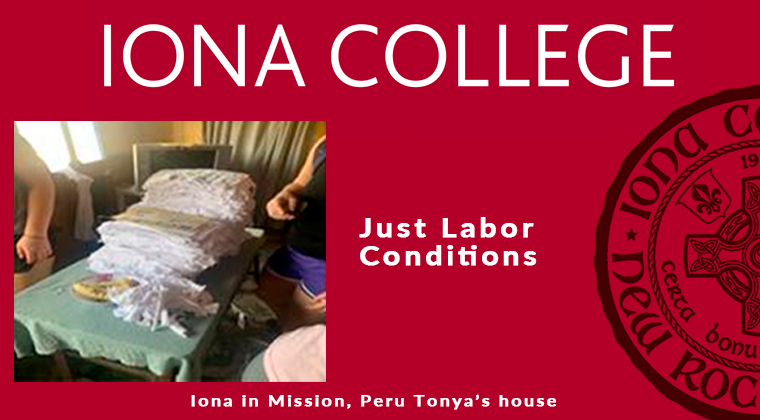 So many powerful memories of the beautiful people of Canto Grande and Jicamarca as well as the transformative educational experiences that Brs. Steve and Paul (may he rest in peace) offered us all.
I would want to focus on the picture above that I utilized for a presentation on how immersions help us focus on Catholic social teaching. Being in Tonya's house and experiencing her "sweat shop" working conditions, in which she was paid so little for hours and hours of labor, really hit home for our students. They experienced firsthand the tedious nature of this work and were able to grasp well the total injustice that Tonya and so many laborers, those made poor, experience day after day. I don't think they will forget that experience.
I look forward to immersions resuming in 2022 as I extend gratitude on behalf of so many Iona College students for the gift of partnership for justice that you, Steve, and the CFC community have offered us.
Carl Procario-Foley PhD.
Iona College in Mission
Director of Mission and Ministry
PALMA SCHOOL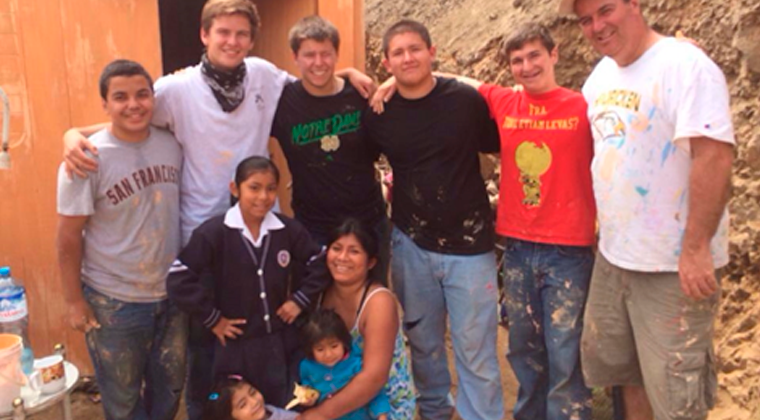 I have hundreds (maybe thousands) of photos of Palma Immersion Peru from our many trips. Words and pictures capture so little, really, of what was felt and learned. In my 31 years as an educator, Immersion Peru with Brother Casey has been the best classroom: physically, socially, intellectually, and spiritually. It's students being disturbed into higher consciousness away from creature comforts. It's the music on the playground at Fey y Alegria rising above an impoverished neighborhood where the streets have no name. It's Tanya shelling beans to sell, and it's Carmen watching our backpacks while we build (and attaching little toy key-rings to them). It's counting steps while carrying walls. It's sacred sweat.
It's the most meaningful prayer and reflections in the circle, in the candlelight, together under the San Damiano Crucifix. That upper room at the Brothers' House, my favorite cathedral in the world. It's students letting fierce tears rain because they've learned to see many of their problems as luxuries. It's righteous anger over the made poor--our brothers and sisters exploited--whose daily bread is a fraction of what it should be because they've been cast (and caste) to the margins. "A loving heart is the truest wisdom." Immersion Peru is this loving heart, this truest wisdom. My prayer is that Immersion Peru with Brother Casey, and other immersions, grow in number and become the sine qua non of a Blessed Edmund Rice Christian Brother Education.
Jim Micheletti
Director of Campus Ministry
Palma School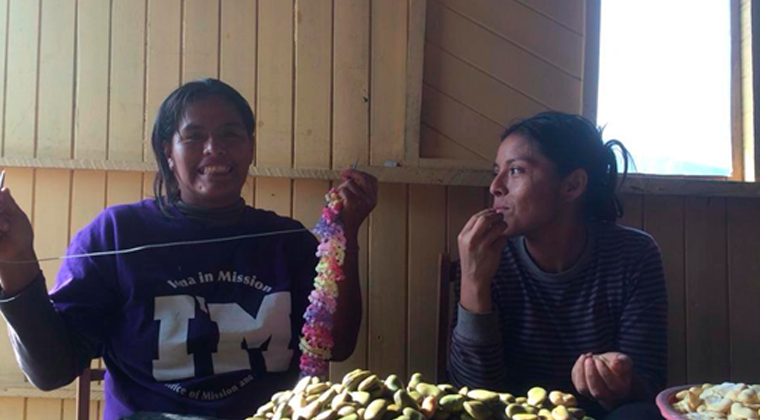 As a student at Palma School, I had the privilege of participating in the Christian Brothers' Peru Immersion in 2014. While there, I learned qualities of resilience and hope, all while gaining a deeper understanding of compassion and community. In neighborhoods with little or no electricity and running water, I witnessed mothers taking in their neighbors' children and reaching out to us, foreign strangers, with holy hospitality. Their material poverty did not rob them of the dignity of empathy and fellowship. While we all came from separate cultures, and spoke different languages, we were connected on a human level like I had never experienced before—united in prayer, worship, and mission.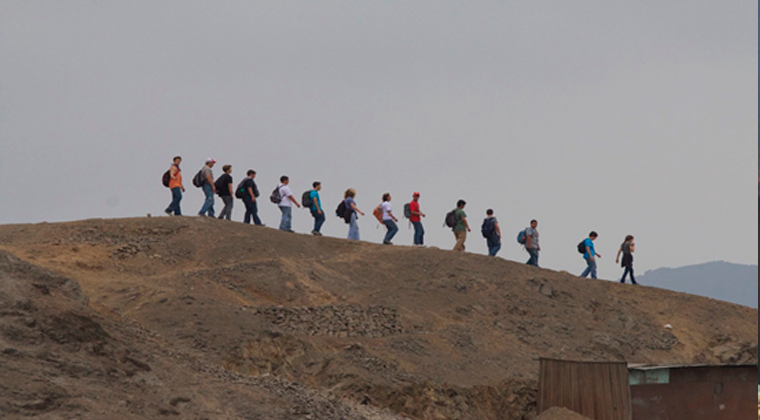 Rick Keaton
Saint Thomas More Collegiate
The Peru Immersion experience has been such a positive and life changing experience that has helped to orient our Edmund Rice community into making the world a better place. From creating a sense of adventure, the opportunity to serve, to build relationships, reflect and learn how to become advocates, this experience has created so many memories. We have been so fortunate for the opportunity to live the charism of Blessed Edmund Rice and to Stand in Solidarity with those Marginalized by Poverty and Injustice. Meeting the people of Peru and learning their spirit and culture has provided us with so much to even empower our own lives. A special thank you to Brother Casey and all for their support and enabling this trip to occur. We look forward to continuing in 2022.
David Mattiazzo
Director of Campus Ministry
STMC

Sister Claire Dawson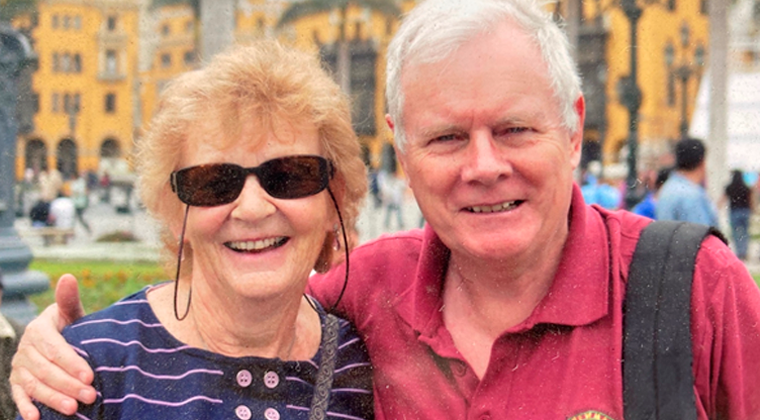 As one of the people who had the privilege of receiving the groups during their time in Peru, I would like to say Gracias, to Br Paul (now with Dios de la Vida ) to you Br. Stephen and to the many students and teachers who visited us in Villa El Salvador.
The very generous gifts were very much appreciated by Centro Medico Parroquial San Martin de Porres and the women and children at Vida y Esperanza day care center. Even more important to all of us was that you shared your time and yourselves with us.
These visits were high lights in the lives of the people of our area because you showed interest in them and made them feel important.
Just a year ago I returned to Ireland after 22 years in Peru, I too am grateful to have met so many lovely people through the Immersion Program.
May Dios de la Vida bless you with good health, strength and enthusiasm to continue this great ministry.
I know that Hermano Paublo is watching over you too.
Abrazos Fuertes,
Clare CP
St. Laurence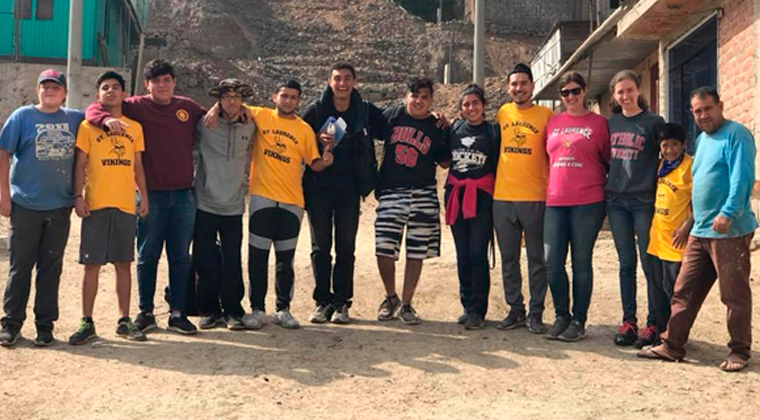 I am beyond grateful for my time spent in Peru. I went on the teacher immersion program and knew right away that we had to get the students to start coming again on the immersion trips. I loved how Br. Paul and Br. Steve didn't just have us help, but had us think through the experience about how to become life-long advocates for our friends in Peru. It was nice to feel this connection to the Christian Brothers and their school in another country, that all of sudden, didn't feel that different or far away from ours.
Colegio Stella Maris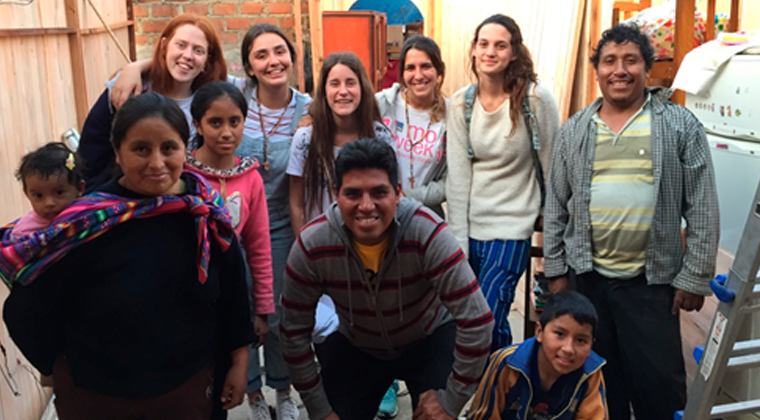 I had heard lots of stories about "Lima" through my Argentinian friends who had participated in the immersion program for years before. I decided it was my time to go, and even though this became one of several service and volunteer activities I had in my life, I still cherish lots of the moments we lived in those days in Perú. Walking the roads of the "cerro" near Fe y Alegría, getting the opportunity to share precious time with the people over there as they opened their home to us, but most importantly, their heart.
Br. Paul was a key element in our experience in Lima, as a caring father he looked after our needs and helped us to discover God's presence in the reality we encountered.
I'm fully confident that Br. Steve will keep the good work and help the project to continue being an important milestone in anyone's life whose path leads to Lima.
-Olivier Manchoulas
During my whole life, I have known that I wanted to help people, but going to Lima taught me mostly about privilege. How privileged I am to be born into a life where I have so much! Experiencing first-hand the struggles that these unprivileged people go through every day is shocking, but what shocked me the most was how positive their attitude was towards life. This inspired me to live a happier life and be more appreciative of the things in my life.
-Sofía Casabianca
My experience in Lima was one of the most amazing ones in my life. Volunteering is something that I've always loved and going there gave me the chance to explore that side of myself, surrounded by an incredible group and guided by Brother Paul, an exceptional person. Having the chance to see how the brothers work and help from their perspective, was one very remarkable to me. With no doubt, it was an instance of personal growth I will always remember.
-Sofia Sierra
Vancouver College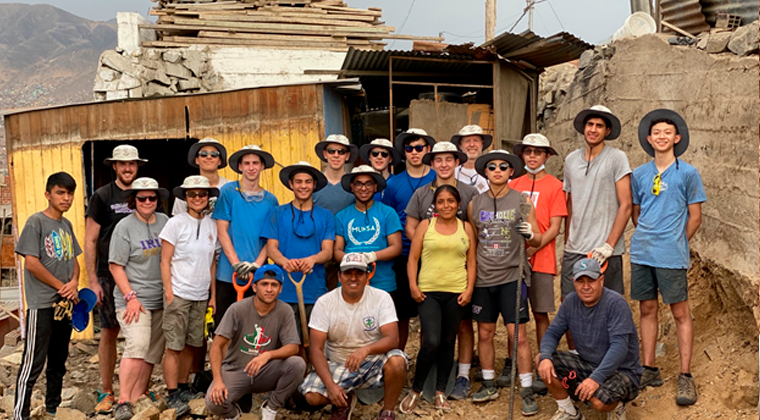 "This trip has changed the way I look at life because I have finally witnessed what it truly means to be rich." Tamas McGillivary ('17)
"This is an experience I will never forget, and will never take for granted." Throughout my thirteen years at Vancouver College, I have participated in numerous activities that the school offered, such as the basketball team as well as an overnight event called Encounter. However, the best experience that I had during my high school years was my immersion trip to Lima. Through this opportunity I was able to get out of my comfort zone and assist the people of Peru who had minimal access to resources as well as living below in extreme poverty. This trip helped shape me into the man I am today, and will never take it for granted . Magnus Chung ('18)
"Twelve students and three teachers embarked on a journey of service to Peru over Spring Break. The experience was immersive and focused on culture, spirituality, and advocacy. The team built two homes for families in need, painted numerous other homes, and volunteered at a school. Much was experienced and reflected on during this immersion trip. "If you have come to help the poor, you're wasting your time. But if you've come because you believe your Liberation is bound with mine, let us work together." (Brother Stephan Casey). There is a social stigma towards developing countries that ascribes the local civilians to be poor yet they possess wealth in areas our society may easily overlook. Community is the most critical part to a happy life and that is exactly how the people of Peru lived. They were happy. They did not need the latest pieces of technology or clothing the "rich" have. Maybe the reality was that they are more "rich" than we are but one thing holds true, they live like us. From rich to poor we are one and the same. Seeing the contrast in Miraflores to Jicamarca only added to this message. The rich lived in skyscrapers, the poor in huts, still, everyone is human and we all share the same likeness. We learned that we need to be the spark in one's life so they can begin to grow a burning fire of hope and success. Hope is their final puzzle piece to having a great life and it is our job to provide it to them. Vancouver College's 2019 Pilgrimage to Peru was one the team will never forget and that is truly special." -Marcus Saldanha ('19)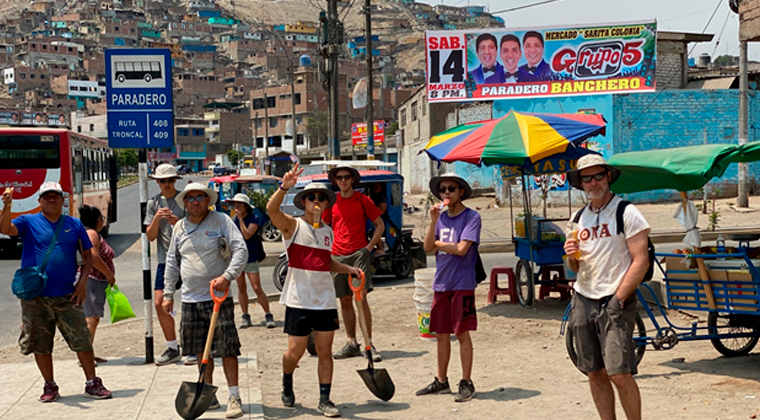 "Going into this Immersion Trip, I really had no idea what to expect. I understood that we were doing service work in Peru, but I didn't realize the true extent of the knowledge, experience, and appreciation we would gain. The experiences and values shared with us by the people we worked with were far more rewarding than what we could ever provide to them.
We learned the rich history of Lima. Br. Casey explained how residents of rural, mountain regions of Peru migrated to the city in hopes of a better life and new opportunities. We saw first-hand how Lima has expanded due to the waves of people settling there. We were able to see communities that have begun to form in the last few decades, others that are in the process of developing, and some that have developed to function similar to cities in the Western World.
As we gained more knowledge of Peruvian history, we could better understand how these communities came to be impoverished. Many of these people transitioned from mountainous farming areas to a desert-city. Without many of the social and educational systems we are provided in Canada, families were unable to get ahead. Many lived in neighbourhoods without running water and proper housing. Finding employment was extremely difficult.
Our work there enabled us to experience a unique culture. The Peruvian people welcomed us warmly and were very grateful. Their family values and their spirituality were strong. Although having a large Catholic population, I was surprised to hear that many people didn't regularly attend church. They focused on the loving Spirit of their faith rather than the rules and rituals of the Catholic doctrine. There was a strong sense of community. The Peruvian children had a large circle of friends who seemed more like siblings to one another. Friends of Tania's family--such as Jorge and Kevin--came to the worksite every day, often working much longer than we did. The community came together to support one another.
Our trip to Peru was unforgettable. We experienced a unique culture and history and a powerful sense of community and came back with a newfound appreciation for the opportunities afforded to us back home. This sense of community helped us through our uncertain time in quarantine. We learned the importance of supporting one another spiritually and emotionally to get through a challenging time." Matthew Keller ('21)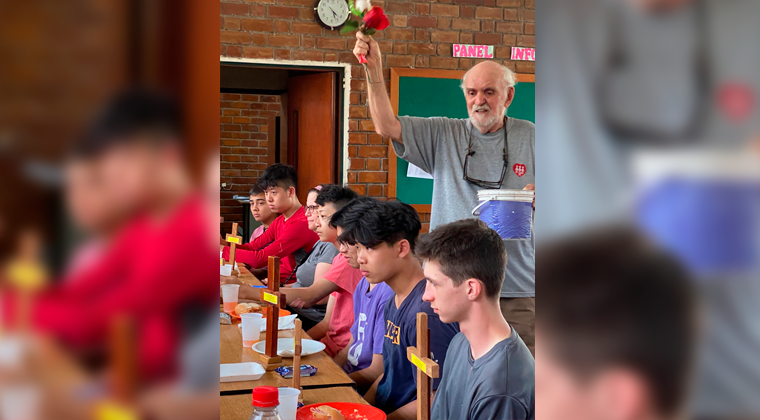 "On the morning of March 7th, when our group arrived at Vancouver International Airport, we didn't really know what to expect. Up until this point, myself, 11 other students, and 3 teachers had applied and been selected to embark on Vancouver College's Faith In Action trip to Peru. For many months, we had held meetings, organized fundraisers, raised awareness, and volunteered in an attempt to prepare us for what we would experience in South America. I think we would have been astounded in normal circumstances, even without the looming pandemic.
Upon arriving in Lima, we were thrust immediately into action. With the help of Brother Stephen Casey - the organizer and leader for our trip and dozens of others - we undertook the task of building a house in the hills of Peru's capital. We spent six days flattening terrain, drinking water, carrying buckets, pouring concrete, drinking more water, raising walls, assembling a roof, and painting until, finally, our efforts were brought to fruition. This house was of particular importance. Not only was it a new beginning for a mother named Tania and her children, it was also a stopping point for other immersion trips to learn about Peruvian culture and help Tania work while on their way to other homes and building sites. Throughout this time, we experienced the neighbourhoods and markets of Lima, as well as a local school run by the Christian Brothers. These experiences really connected us with these people and allowed us to pour every fibre of our being into the work we were doing. Spending the week working together with Tania and her family was truly a fulfilling experience for our whole group - seeing a family so happy and caring, even in the harshest of conditions really impacted us and will stick with all of us for the rest of our lives.
Having concluded our work, we left the sweltering coast and travelled inland (and upward) to the city of Cusco. Situated at over 11,000 feet above sea level, the capital city of the Incas was very different from Lima. Here we began to glimpse fragments of the ancient civilization that has impacted this country and our world so heavily. Whether it be the square of Cusco where the Spanish were besieged by natives, the stronghold of Ollantaytambo where the Inca Emperor vacationed, or the world-famous citadel of Machu Picchu, we got our fair share of deep history. It was upon returning to our hotel in Ollantaytambo from the heights of Machu Picchu where we heard the news: Peru would be closing its borders with immediate effect.
Upon hearing the news, our group experienced a range of emotions. Around the world, nations had given multiple days of notice to allow travellers and foreign citizens time to get out, but we were suddenly stuck. We were worried, we were frightened, and many of us felt helpless. At this point Mrs. Vernier, Mr. Legge, Mrs. Robles, and Mr. Knorr stepped in to battle our way out of this unprecedented situation. While we were off watching Peruvian television and playing progressively-stranger card games, our teachers were waiting by their phones, keeping in constant contact with our families back home, the school administration, the Canadian Embassy, the Ministry of Foreign Affairs, and various news sources. It became very surreal very quickly as hours turned to days and days to weeks. At this point we were just a group of students and teachers quarantined in a hotel who happened to be all over the news in multiple countries. After about a week we were shuttled back to Cusco on a bus full of other Canadians, and another week took us through to the beginning of our exodus. After passing through military checkpoints and being sniffed by detection dogs, we boarded a plane from Cusco back to Lima. We were back in the capital after an unpredictable two weeks and I couldn't help but wonder how Tania and her family were doing. After another long flight took us back to Toronto, our immediate reaction to arriving on Canadian soil in the middle of the night was to travel through a deserted Pearson Airport to tear through some fast food. One largely sleepless night later and we boarded our flight home to Vancouver - the last leg of our harrowing journey home. I'll never forget the moment that I saw my dad from across the baggage terminal, it was certainly difficult to isolate myself for 14 days in our basement before I could see my parents again.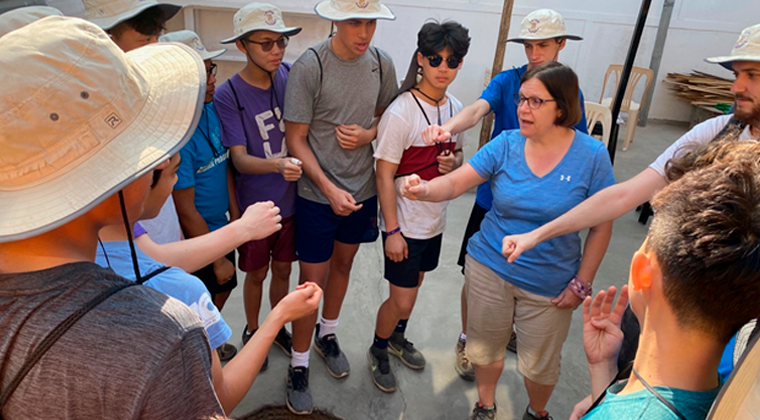 After the mental challenge of enduring a Peruvian quarantine, I've taken the time to focus on the actual meaning of our trip. Despite getting a little sidetracked along the way, it really hits home how fortunate we are - especially during times like these - and the lessons we all learned in Peru will certainly not be forgotten. I personally would like to thank a long list of people: our team of teachers, without whom we'd probably still be playing cards in a courtyard in rural Peru; our Principals Mr. Weaver and Mr. Bevacqua, who worked tirelessly, day and night to manage this crisis and get us home; our parents and families, who collaborated amongst themselves and with school administration and lobbied government officials tirelessly; various Members of Parliament; Chris Gailus and the local media; the hotel staff in Cusco and Ollantaytambo, who cared for us as if we were family; as well as everyone back home, who fought to get us home and kept us in their prayers. Finally, I think I can speak for my fellow students in acknowledging that the education gained and values developed from Vancouver College helped prepare us for not only the challenge we travelled to Peru to take on, but also the unforeseen adversity we faced. It is great to be home. " Carson Telfer ('20)